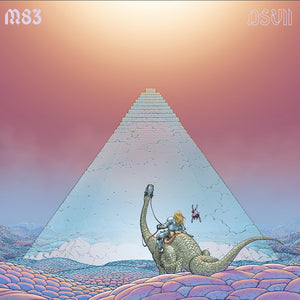 M83 - DSVII [Limited Edition Pink Galaxy Vinyl 2LP]
Regular price
$31.00
$0.00
Unit price
per
Mute will release M83's Digital Shades Vol. 2 on September 20, 2019. It will be available in limited edition pink galaxy
color double vinyl, CD, and digital formats. Anthony Gonzalez (M83) spoke with his brother and creative partner
Yann Gonzalez about the record, saying the below:

At first there was this vivid memory of Dungeons and Dragons, this childhood sensation of living in an imaginary world set in a faraway past or a lost future. I wanted to create some music that could be part of this adventure and journey with all of its solitary knights, dreamy landscapes, strange animals, forgotten myths and old spells.

Originally, the Digital Shades project was supposed to be much more intimate – a collection of B-sides and unused tracks destined for the hardcore fan base. Digital Shades was the name chosen to dissociate it from a proper studio album, although it would be fully part of M83's discography. Digital Shades became an excuse to give a second life to some tracks instead of letting them disappear into the void. I wanted to create a production of ambient music that could evolve throughout the years. With Vol. 2, I wanted to come back with something stronger that featured the depth of a proper studio album without the
pressure of providing pop music – faraway from Hurry Up, We're Dreaming and Junk.

The inspiration behind this record is mainly video game music. It felt so refreshing to play all of these old school games again. I wanted to be surrounded by nature and the past. I would only feed myself with older art. It's almost as if I couldn't stand living in the present. This is probably why it was important for me to only use analog equipment for this record. We recorded everything with vintage equipment in my studio and at Justin Meldal-Johnsen's studio in Glendale, California during final production.
---
Share this Product
---