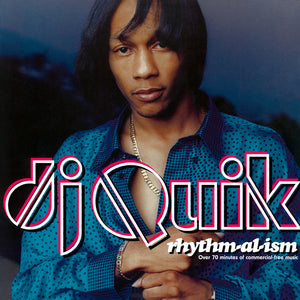 DJ Quik Rhythm-al-ism [Remastered Vinyl 2LP]
Regular price
$42.00
$0.00
Unit price
per
DJ Quik is a giant of West Coast hip-hop. With his fourth album Rhythm-Al-Ism he created his masterpiece, a perfect hip-hop album. As Quik explains, "the name Rhythm-Al-Ism alone tells you what I was doing. I was mixing up rhythms. I was meshing R&B with hip-hop and jazz. And a little bit of comedy". It's absolutely sensational and as with a lot of mid-90s albums those original vinyl copies are now rare so here's the Be With re-issue.
A preternaturally gifted producer/rapper, DJ Quik has produced scores of LA gangsta rap classics. He's released platinum and gold records of his own, as well as helped craft them for the likes of Tupac, Snoop Dogg, and Dr Dre. Quik has always been quirkier and more interesting than his gangsta rap peers, both musically and lyrically. An old-school funk producer at heart, he's also incredibly nice on the mic. His raps often deal in boasts, jokes and good times but also cover his beefs, his trials and his trauma. Partying and pain, all mixed up. DJing and producing hype beat tapes from age 14, Quik's tracks blended the languid funk and rubbery synths of Zapp and George Clinton with a gangsta aesthetic, creating a more danceable foil to Compton's more typical nihilistic hedonism. Ultimately, his records sound custom engineered to drift out over sun-soaked barbecues.
Released in 1998 on Profile, Rhythm-Al-Ism was the closest Quik ever got to making a commercial splash. "You'z A Ganxta" and "Hand in Hand" made radio waves across the country and the less radio-friendly tracks like "Medley For A 'V'" were bumping out of car stereos. Combining his soulful, jazzy P-Funk/G-Funk beats with his effortlessly smooth flow, Rhythm-Al-Ism was the quintessential West Coast Party. Squelchy synths, bouncy bass, monstrously knocking drums and freaky keys – this is peaking acidic party-rap, straight out the gate. Music for gliding, for skating, for time with your people and your poison. Sunshine. No cares. BBQs. Heavy smoke in the air. Dripping with wit and good humour. A real swing to the vibe.
The album opens with Quik setting out his mission statement with "Rhythm-Al-Ism (Intro)", telling us what this is all about before the self-explanatory "We Still Party" rocks the spot. It's definitely all about the party here, complete with Quik's signature head-nod/body-moving beat. Next up, the undeniable laidback funk and dripping swing of groove-laden "So Many Wayz". This positively slaps.
Then we get to the three huge singles. The R&B-tinged radio-friendly minor-hit "Hand In Hand" closes the first side only for the flip to get straight into the rolling and scratching of bleepy computer-funk banger "Down, Down, Down" (featuring a particularly nice use of Howard Johnson's epochal "So Fine"). The effortlessly smooth, flute and guitar-laced "You'z A Ganxta" completes the trio. Next up the fast-paced, vocoder-enhanced, woulda-beena-global-hit "I Useta Know Her". This coulda (shoulda) been a single too. Head-nod funk workout "No Doubt", with its ace sample of Prince's "Sexy Dancer", closes out the second side.
"Speed" races out the gate on the second disc, sampling Edwin Birdsong's "Rapper Dapper Snapper" in a harder, better, faster, stronger way than those daft Parisian punks. Amphetamine-swift raps over soaring, string-drenched b-boy beats. A total anthem. Up next, the staggering, near 8-minute laconic, lounge-y sax-rap of "Whateva U Do" cools things down and smooths things out with its flute wrapping around a sample of Smokey Robinson's "So In Love" and some oh-so-classy lounge-piano tinkling. And speaking of smooth, things don't get much smoother than the blissfully melodic glider-anthem "Thinkin' 'Bout U" riding that ace flip of SWV's "Use Your Heart". Exceptional.
The exquisite funky-flute-slapper "Medley for a 'V' (The P***Y Medley)" opens the fourth and final side, with star turns from Snoop Dogg and a typically suave Nate Dogg. It's followed by the supremely skanked-out "Bombudd II", a beautifully sweet reggae-fuelled ode to the herb. "Get 2Getha Again" is slick funk. Stunning.
This 2022 Be With double LP re-issue has been mastered for vinyl by Simon Francis, cut by Pete Norman and pressed at Record Industry. Unusual for the time, Rhythm-Al-Ism was originally pressed as a double and we've reproduced the original LA vibe picture sleeve and insert to match.
As that original front cover says, this is "over 70 minutes of commercial free music" and it's absolutely perfect from start to finish. There are no stand-out tracks here. It's all gold.
---
Share this Product
---